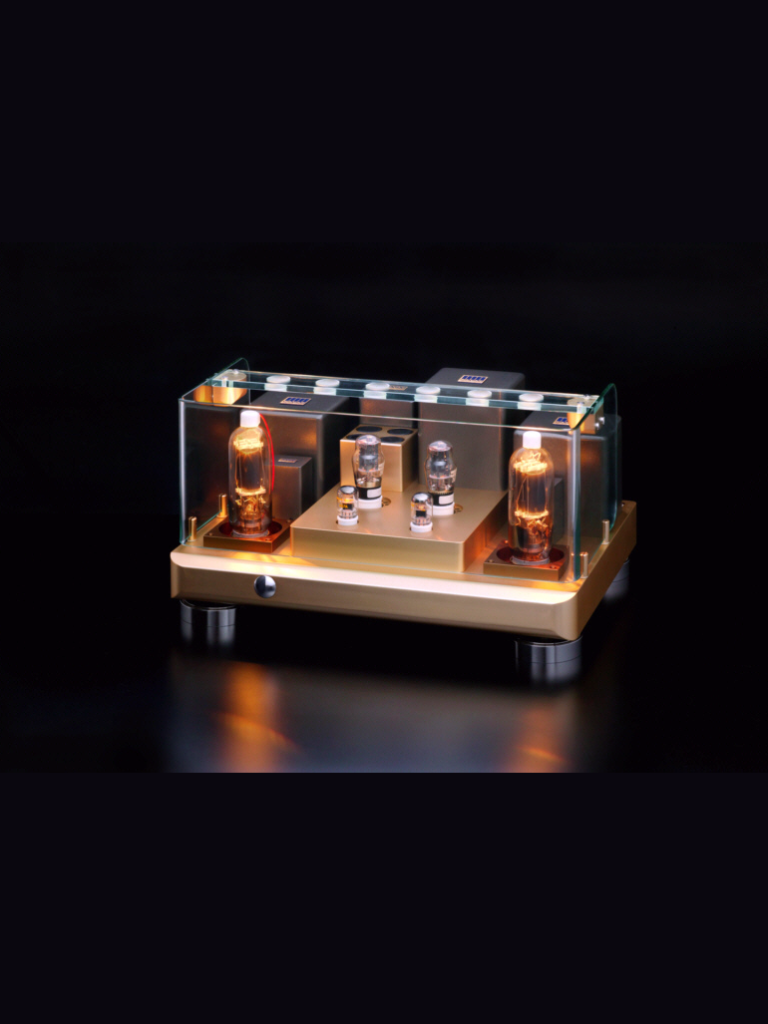 HE-805v2
A Class Single Ended 50W+50W Power Amplifier
We are proud to present a modern masterpiece of electron tube power amplifier technology as our flagship product, the HE-805v2. Although it is one of the most powerful single-ended triode amplifiers in the world, the HE-805v2 embodies the remarkable musical characteristics of the superb low power SE amplifiers that have captivated the hearts of music listeners worldwide.
Our design goal for the HE-805v2 was to produce a world-class triode amplifier capable of driving moderately-efficient loudspeakers to their fullest potential and meeting the demanding power requirements of digital source material. The music lover is no longer forced to choose between beauty and high power. Now you can have real world power without making apologies for sound quality.
The HE-805v2 uses the industrial-strength 805 transmitting triode with its characteristic plate cap and enormous graphite anode structure.

Although unfamiliar to most audiophiles, this classic tube in an old standby in high-power RF service. The 805 triode is extremely well made, highly dependable, and easily sourced. At 50 watts output under very conservative operating conditions in our IITC circuit, the 805 will provide long lasting trouble-free enjoyment.
Certainly, the brilliant white glow of the thoriated tungsten filaments inside this hearty transmitting tube provide an enchanting spectacle but we guarantee that you will be even more captivated by the dynamic and natural musical presentation of the HE-805v2 amplifier.
Features
-The novel IITC circuit utilizes the 805 transmitting tube to its ultimate

sonic potential.
-Direct coupled circuity eliminates coupling capacitors for outstanding

dynamic range and uncolored sound.
-The chassis is milled out of 60mm thick block of aerospace-grade

aluminum and finished in a lustrous champagne-gold.
-The specially-designed transformers used in WAVAC Audio Lab. amplifiers are

custom-wound to the highest standards by TANGO, the most

renowned transformer manufacturer in Japan.
-Tube sockets are machined out of solid Teflon stock and

assembled with heavy gold plated phosphor bronze contacts.

Elastomeric anti-vibration mounting arrangement is provide isolation

the tubes from environmental vibrations.
-Gold-plated speaker jacks which will accommodate heavy audiophile

speaker cabled are mounted on the top of the amplifier for easy

access.
-Reduction of noise caused by electric power supply is reduced by

power line input filter.
-All elegant laboratory glass canopy is fitted to the chassis with

elastomeric supports for protection of the tubes.
-A highly-filtered DC filament supply reduces hum and noise.
Product Specifications
Power Tube

805

Effective Power output

50 watts per channel

Frequency range

20Hz-60KHz

Input sensitivity

1Vrms

Input impedance

100k ohms

S/N ratio

85dB

Power consumption

500 watts

Power supply

100,110,120,220,230,240
VAC 50-60Hz(selected when shipped)

Load impedance


4/8(16) ohms

External dimensions

540Wx410Dx290H(mm)

Weight

60kg
Agent List
RUSSIA
TURKEY
Singapore
NORWAY
Israel
Portugal
New Zealand
INDIA
VIETNAM

Audio Choice
HONG KONG
Cyprus

Westminster Electronics
Bulgaria

Audio Video Consul Ltd.
South Korea
Sweden
Finland
Poland
Croatia
Slovenia
Ukraine
France

Sound Arts Network
INDONESIA

PT.Aurora International
Pakistan

Omni Audio
U.K.

>ACHELIS
Taiwan

ChuanMao Audio
Switzerland
Philippines
Canada
Romania
Latvia
Lithuania
Estonia
Benelux
Germany
Austria
Australia

1404-26 Nakada-machi,Yonezawa-shi,YAMAGATA 992-0011 JAPAN