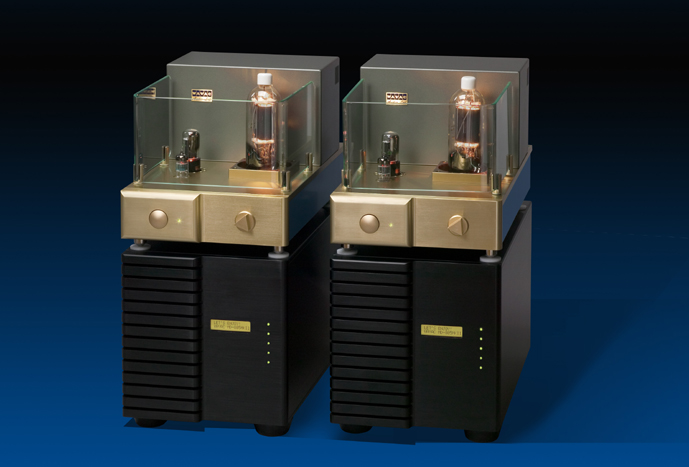 Product Specifications
| | |
| --- | --- |
| Power Tube | 805 |
| Effective Power output | 60W |
| Frequency range | 20Hz-75KHz |
| Input sensitivity | 1V |
| Input impedance | 10k ohms |
| S/N ratio | >95dB |
| Power consumption | 300W(each) |
| Power supply | 100,110,120,220,230,240VAC 50-60Hz (selected when shipped) |
| Load impedance | 4 & 8 (16) ohms |
| External dimensions | 260Wx460Dx270H(mm) |
| Weight | Main unit : 25kg(each) Powersupply: 40kg(each) |
MD-805MKII
60W Single-Ended Mono Block Power Amplifier
Features

-The MD-805 MKII was upgraded of MD-805m, The MD-805m is a highly specified model and created with our leading state-of-the-art design techniques as a WAVAC Audio Lab special 10th anniversary model of SH-833, HE-833MKII.

-The MD-805MKII transformer is compacted and separated from main unit, the transformer protected effect from magnetic and guide, they can supply pure and clean electric current to main unit.

-WAVAC special double chock transformer for B power circuit will reduce hum.

-All the tube heaters are rectified by Silicon-diode. The pi filter choke transformers are DC ignited by a large volumetric condenser to minimize hum noise.

-The signal circuit eliminates a condenser and solidifies the dynamic range by using direct coupled circuitry and transformer-coupled.

-We use large current of output transformer than MD-805m the transformer provide enough current and wide frequency response.

-The main unit protect by effect from vibration of transformer by Al fur gel will isolate all of transformer.

-The A transformer, B transformer and C transformer separated protect by effect of sound by lack of current and guide and magnetic.

-The chassis use 10mm aluminum the chassis will radiation of heat and deteriorate of sound quality by a temperature changed.

-The all that chassis done very warm and beautiful atmosphere by hairline and alumite treatment.
Product Specifications
| | |
| --- | --- |
| Power Tube | 805 |
| Effective Power output | 60W |
| Frequency range | 20Hz-75KHz |
| Input sensitivity | 1V |
| Input impedance | 10k ohms |
| S/N ratio | >95dB |
| Power consumption | 300W(each) |
| Power supply | 100,110,120,220,230,240VAC 50-60Hz (selected when shipped) |
| Load impedance | 4 & 8 (16) ohms |
| External dimensions | 260Wx460Dx270H(mm) |
| Weight | Main unit : 25kg(each) Powersupply: 40kg(each) |